Tips | November 7, 2022
5 Unique Uses of Vehicle Wraps and Graphics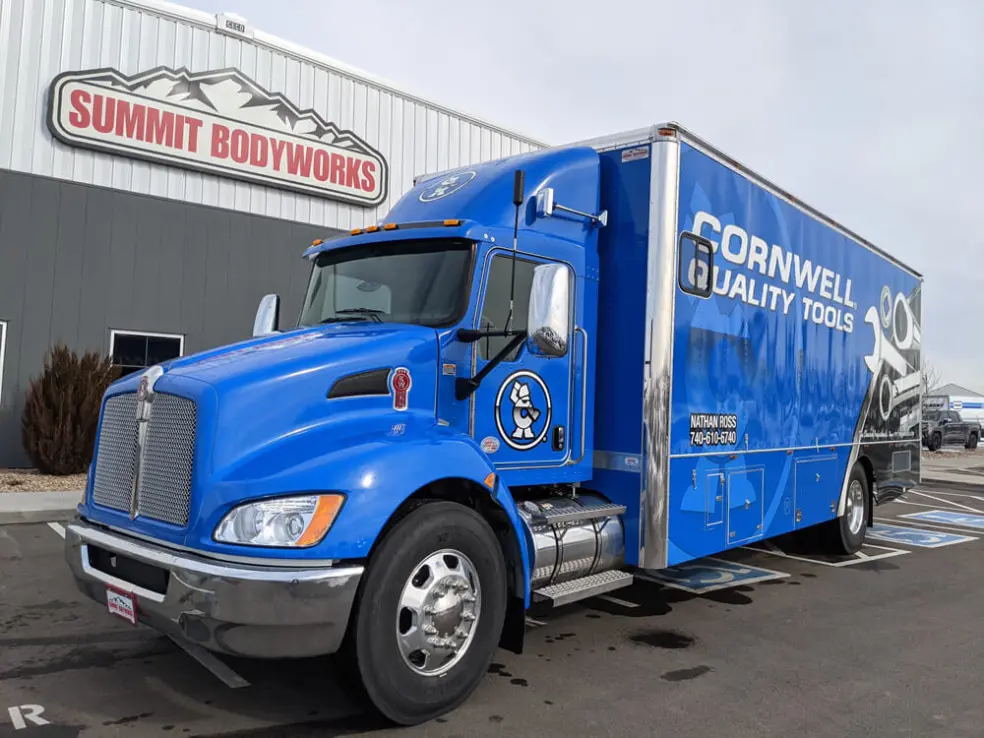 Take a drive down the highway, and you'll see numerous business vehicles featuring professional graphics and designs. Often popular with service businesses, vehicle wraps and graphics can turn any fleet of vehicles into a branded business advertisement. They usually feature a prominent company name, logo, and perhaps an eye-catching graphic or slogan.
Whether you are a realtor looking to wrap your vehicle or a business owner interested in adding graphics to an entire fleet, there are numerous benefits to investing in vehicle wraps. Let's take a look at five unique uses of vehicle wraps and graphics.
#1: Build Brand Awareness
First and foremost, wrapping your business vehicles provides you with the perfect opportunity to build brand awareness. Rather than having your employees drive around town in plain vehicles, adding graphics and vehicle wraps will help your fleet stand out. It also helps build brand continuity.
As people see your vehicles on the road day after day, your brand name becomes solidified in their minds. These wraps also work to boost the other kinds of advertising and marketing your business is doing.
When designing your vehicle graphics, make sure to keep branding central to your design. Include all of the following in your wrap:
Your company name and contact information

Your brand logo

Your brand colors

Your company slogan

A quick snippet of information about your business

An eye-catching graphic
#2: Protect Your Vehicle
While many of the benefits of using a vehicle wrap revolve around the visual appeal of a wrap, vehicle wraps also offer protection for your vehicle. A full wrap will keep your vehicle's paint protected against the elements. With a vehicle wrap, the paint will not be exposed to the sun, rain, and other elements of nature. Additionally, a vehicle wrap can protect against scratches.
This is a great business investment as it can keep your vehicles looking pristine and professional without requiring you to spend money on paint upkeep. Furthermore, a car thief is much less likely to steal an automobile with a wrap on it.
#3: Build Trust with Customers
For many service businesses, adding vehicle graphics is an important part of establishing trust with customers. If your technicians will be visiting the homes or businesses of customers, showing up in an unmarked car can leave people feeling uneasy. However, when your team shows up in a vehicle that matches their uniforms and has your company's logo and name clearly displayed, customers will immediately feel more secure.
This is a particularly important use of vehicle wraps for electricians, plumbers, pest control, and HVAC teams who spend a large amount of time traveling to customer locations.
#4: Showcase Services
If you want to promote a few of your services, listing these services on a vehicle wrap is a great tool for getting the word out. For example, if you offer AC tune-ups, wrapping your HVAC fleet with graphics highlighting this service right before the summer season is a great way to grab the attention of potential customers.
If you offer package deals, you can also showcase these through your vehicle wrap. This will act as a continual promotion of your work, making those in your community aware of the services you offer.
#5: Lower Your Marketing Costs
Many marketing channels require a large amount of money to reach new customers. For example, with digital marketing, you often pay for every ad impression. This can drive up marketing costs.
However, with a vehicle wrap, you can lower the amount of money you spend on marketing over time. Once you have paid for your vehicle wrap, you don't need to pay money each time someone sees your vehicle. Instead, this investment will continue to provide you with new leads without requiring you to spend a penny.
Not only will a vehicle wrap turn your fleet into a professional mobile billboard, but it will also work around the clock. Even when your vehicles are parked, people can still learn about your company. This is a great way to help cut back on your marketing budget without losing out on important customer outreach.
Talk to Our Team About Customer Vehicle Wraps and Graphics
If you are interested in exploring the unique uses of vehicle wraps and graphics, reach out to our team at Mammoth Graphics. We will be happy to help you not only design, print, and create an eye-catching vehicle wrap, but will also install it.
Whether you have one vehicle or ten, our team is here to assist you in designing a vehicle wrap that will put your best business foot forward. Reach out and let's get started.