Events & Tradeshow Products
Design custom convention signage and merchandise for your next event or trade show with Mammoth Graphics. Events and trade shows offer a unique environment for a company to showcase its products and services—stand out with exceptional signage and products.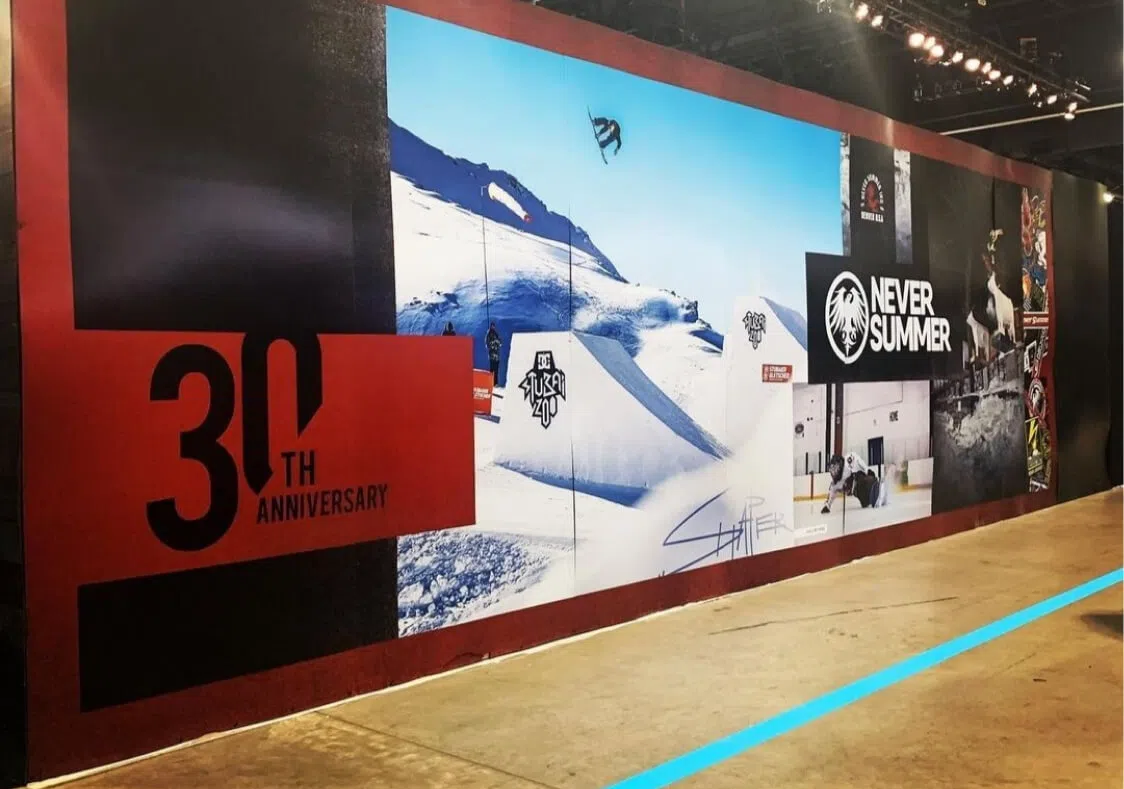 Types of Events and Tradeshow Products
Event and tradeshow products from Mammoth Graphics are created with the highest-quality materials, printed to your specifications—and created to last.
Step-and-Repeat Banners
Embellish your brand with a photo opportunity that will promote your business beyond the event.
Trade Show Booths
Allow your company the freedom and flexibility to truly represent your brand, increase booth traffic, and turn heads with our professional custom booths.
Backlit Signs
Give your sign an extra spark with backlighting, which will highlight your message at any event in a unique and memorable way.
Temporary Wallpaper and Graphics
Personalize your temporary wallpaper and graphics to wow trade show attendees with no glue, mess, or damage.
Temporary Dance Floors
Stand out from competitors with a scratch-resistant, fun, flashy, temporary dance floor sure to be remembered by all event attendees.
Pop-up Banners
Make your business pop with the perfect eye-catching promotional tool that requires minimal assembly and offers easy transportation.
Event Tickets
Add your logo and personal flair to create custom event tickets and make your event even more memorable.
Table Coverings
Showcase a special promotion or message while efficiently using your space with custom table covers.
Tabletoppers
Tabletoppers make your brand pop by conveying your custom message on a key space in any event.
Marketing Materials
Design brochures, handouts, business cards, and more to make a memorable impression at a variety of events.
Effective trade show booth design is critical for capturing the attention of potential customers, as custom trade show booths are viewed by hundreds or thousands of attendees at events that are hyper-specific to your industry and audience. When you create an exceptional trade show booth, it will be remembered long after the event is over. Utilize event and tradeshow products from Mammoth Graphics to professionally maximize your company's exposure and reflect brand personality at your next tradeshow.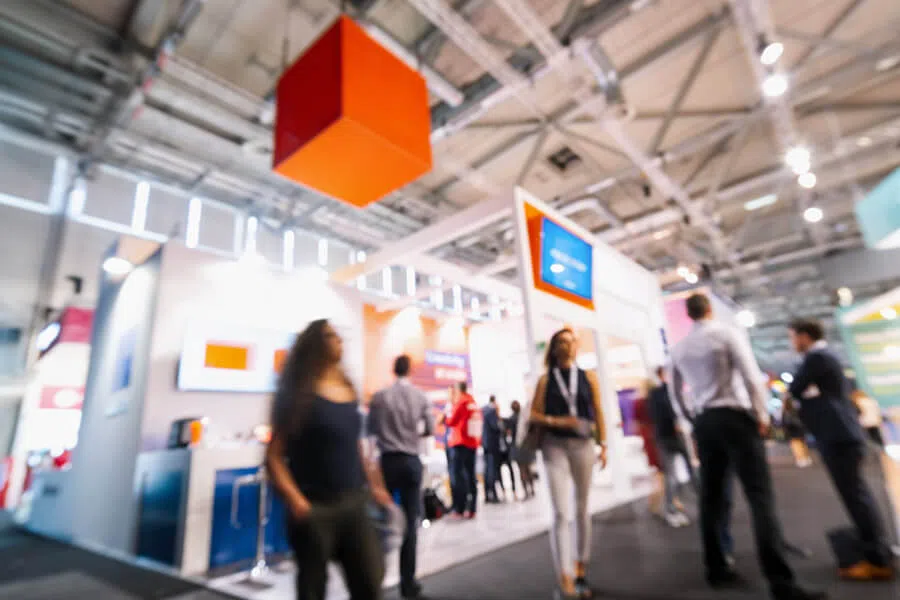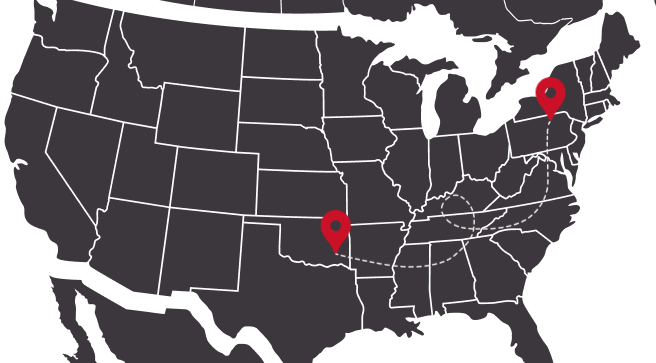 Nationwide shipping available
Need design help? We've got you covered.
Our design team can combine your brand and vision with their knowledge of best practices to design the perfect product.
Explore Design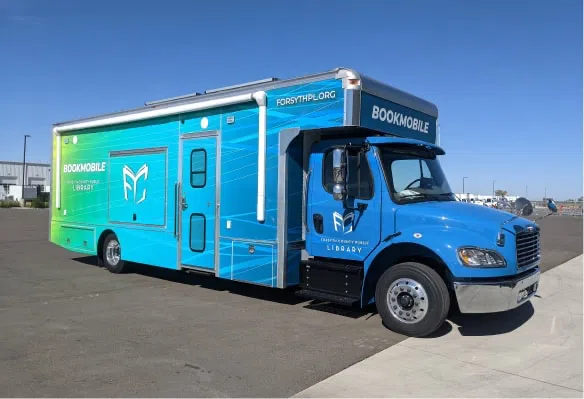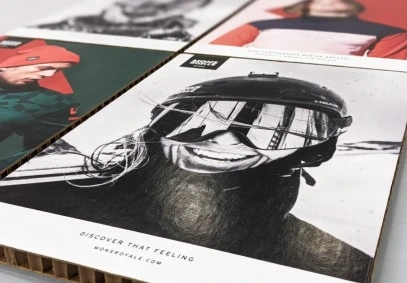 What Our Customers Ask
We are happy to help every step of the way!
Reach out for all other questions: info@mammothgraphics.com
Why are trade show booths important?
Trade show booths are imperative when showcasing your company or brand in a key space for your industry and audience, as many tradeshows bring together both prospective customers and competition. Thoughtful reflection on the company culture, products, and vision are all essential in informing the public as to who you are, what you do, and what you stand for. Utilize that reflection, plus the input of experts like the team at Mammoth Graphics, to select the perfect signage and products for your booth. With our team in your corner, it's easy to create a trade show booth that creates a lasting impression.
What kind of exhibit is right for my brand?
Trade shows have several different types of exhibits, and some may align better with the purpose and products of your brand. An eye-catching display with a strategic foundation can greatly benefit your brand by striking up conversations with potential customers, gathering leads, and surpassing your event marketing goals. Contact Mammoth Graphics today to have one of our knowledgeable team members help you discover your perfect solution.
How can I tell the story of my brand with visuals at a trade show?
Telling the story of your brand is essential at trade shows. Custom, unique visuals are a great way to not only tell your brand story, but stick out in the minds of new customers. People who visit your booth will walk away with both a memory of their experience, plus any marketing material or products they take with them.
Some ways you can emphasize your brand story at your tradeshow booth include:
Use bright, noticeable colors on eye-catching graphics.
Stand out from the crowd with fun items like step-and-repeat banners or temporary dance floors.
Have informative take-home marketing materials like brochures, handouts, and business cards.
Be creative, flashy, and fun with your logo—try a backlit sign!
How fast is the turnaround time for event and trade show products?
Mammoth Graphics takes pride in a fast turnaround time when creating trade show and event products. Most orders can be placed and fulfilled within just a few days. Contact us today so our team can start your premium order immediately!
What kind of signs and products do I need for my tradeshow booth?
Depending on your goals for the event, you'll want to select the right signage and products that make an impact for your tradeshow booth. Luckily, the team at Mammoth Graphics is ready to help you put together the perfect booth.
We offer everything you'll need for your booth, including:
Step-and-repeat banners
Trade show booths
Backlit signs
Temporary wallpaper and graphics
Temporary dance floors
Pop-up banners
Event tickets
Table covers
Tabletoppers
Custom tickets
Marketing materials
Read the latest about printing and beyond
Read More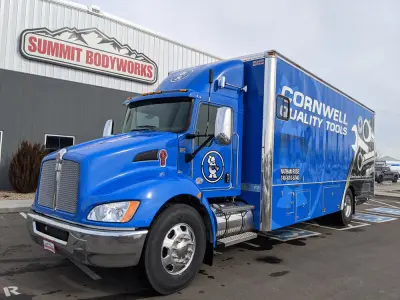 TIPS
Take a drive down the highway, and you'll see numerous business vehicles featuring professional grap...