Tips | October 24, 2022
6 Creative Ways to Use Storefront Window Graphics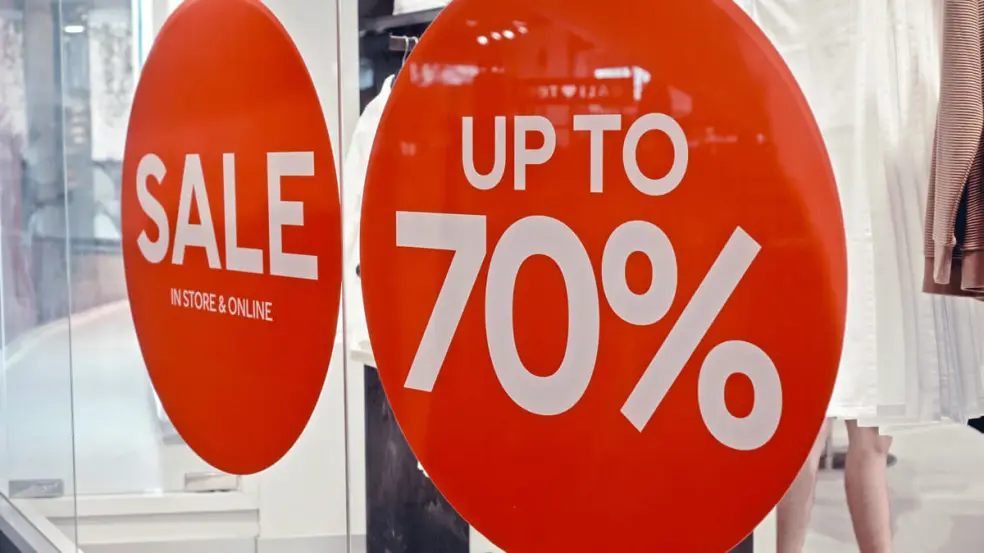 Storefront window graphics are a powerful marketing tool for reaching potential customers, showcasing your brand, and much more. Customizable and available in a variety of styles and sizes, a window graphic can transform your storefront's appearance and attract customers to your business.
In this guide, we'll take a look at six creative ways you can use storefront window graphics to add to the look of your building.
#1: Add Privacy
Storefront window graphics can be used as a creative method for adding to the privacy of an office or location. For example, if you run a business office on a busy street and you have desks located next to large street-facing windows, adding a window graphic can act as a curtain. This helps employees stay focused on their work with fewer outside distractions.
Numerous businesses can benefit from blocking the public from seeing inside their street front windows. Spas, fitness studios, medical offices, and more can all use window graphics to help create a custom barrier between those inside the building and those walking by on the street.
These graphics are a more aesthetically pleasing option than simply blacking out windows with tinting or heavy curtains.
#2: Advertise a Sale
Window graphics are a wonderful way to advertise a limited-time sale. With the ability to create a colorful and eye-catching ad, a window graphic can be used to grab the attention of each passerby. It's ideal for retail locations with a street front window.
The following are all examples of how you might use a window graphic to highlight a sale:
20% off storewide sale!

Holiday specials inside

Limited Time Offer when you Join Today!
#3: Promote Your Brand
Establishing a recognizable brand is essential to a business. Your storefront window gives you a unique space to promote your brand to any person who walks by. Through the use of branded graphics, you can transform a plain window into a billboard for your company. With your storefront graphic, you can include all of the following important brand information:
Your company name

Your logo

Your slogan or motto

Your hours

Your social media information

Your website
The key is to make sure that when you design your branded graphic, you are working with a business that can customize the graphic to match your specific brand colors, fonts, and style. This will help create a consistent brand image from the first moment a customer or client arrives at your building.
#4: Contribute Artistically to the Area
A high-quality storefront window graphic can help improve the appearance of your community. Through the use of imagery, colors, and artwork, you can change an empty storefront window into a work of art that showcases your business and share it with those who pass by each day—24/7. This is a terrific way to make your company stand out.
Through an artistic mural or design, you can attract new customers who are interested in seeing what business sponsored the work of art. You might even consider choosing a theme or image that will invite a passerby to stop and take a selfie in front of your building, such as a large pair of wings designed with elements of your brand or product.
#5: Highlight Products or Services
Your storefront window can be put to work to entice people to stop by. This is particularly beneficial for restaurants, bars, cafes, breweries, spas, and service-based industries. Through the use of a window graphic, you can list off services or products you offer.
For example, a coffee shop might use a window graphic to indicate that they sell espresso, coffee, pastries, and breakfast items. As someone walks by, they will instantly recognize that the business is a coffee shop. This can be extremely helpful for new businesses that are looking to establish their presence in a new area.
#6: Celebrate a Holiday
From major national holidays to small community holidays, you can use a window graphic to celebrate important days. For example, around Thanksgiving, you can use a graphic to thank your customers for their business and to wish everyone a happy holiday season.
Or, you might use a window graphic to celebrate a local event such as the celebration of harvest time, the state fair, or the accomplishments of the neighborhood school.
Highlighting a holiday with a window graphic helps to showcase that your business is part of the local community. This is a great way to build trust and relationships with your customers.
Talk to Our Team about Creating a Custom Storefront Window Graphic
A business can benefit in many ways from designing and installing a storefront window graphic that showcases its product or service. At Mammoth Graphics, we are here to help you transform your storefront window through the design of a custom graphic.
We can consult with you on your custom design and provide the installation.
If you are interested in creating a window graphic for your office or business, reach out today for a custom quote by calling (720) 348-2690 or sending us an email at info@mammothgraphics.com. We look forward to helping you design the perfect image to match your business needs.