Tips | March 27, 2020
Avoid These Mistakes When Getting A Wall Mural For Your Business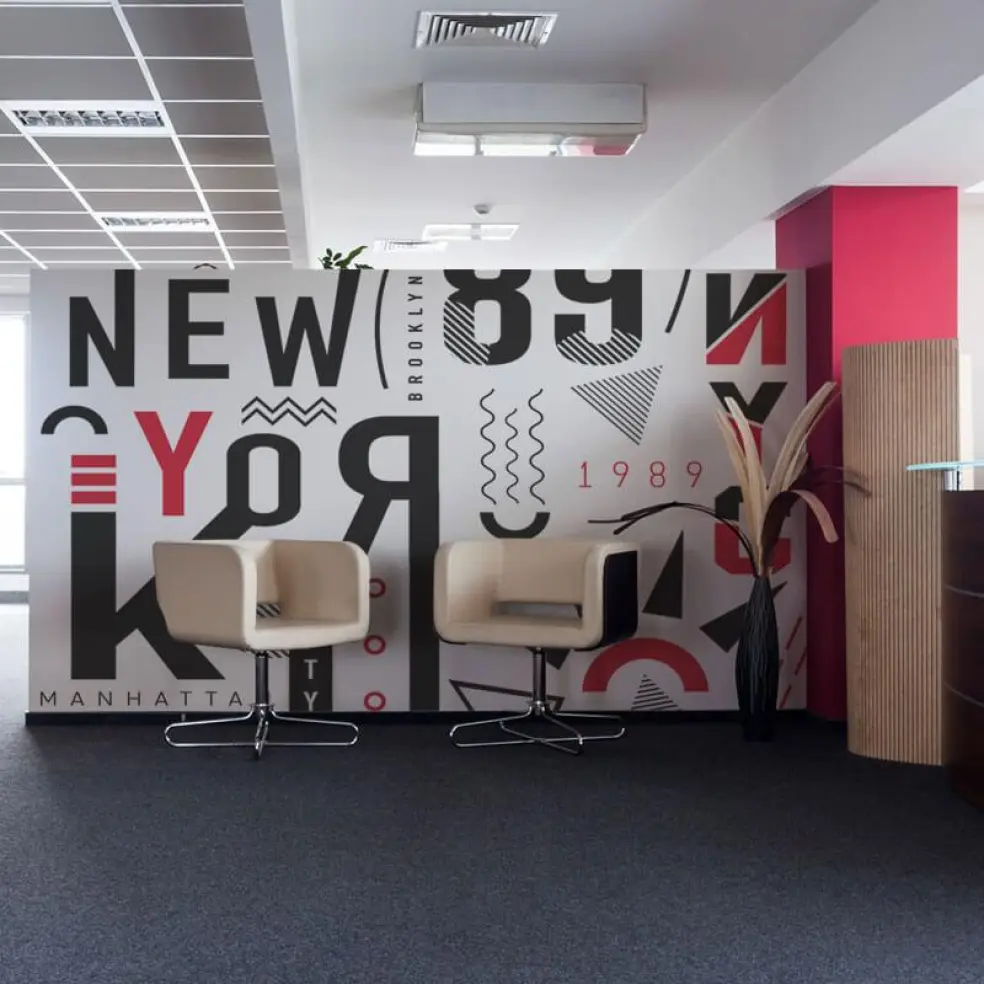 Office murals are an excellent way to exhibit your brand and corporate information. These murals look great in entryway or reception areas and can be custom designed to suit your business image and branding. But since these are highly visible features, it's crucial to get every aspect of the design, material, and installation right.
Mistakes to Avoid While Getting Custom Wall Murals
To ensure your custom murals make a remarkable impact, work with experienced operators like us at Mammoth Creative. We have seen that people make some common errors when getting custom wall murals for their business, and these are the ones to avoid:
Spelling or Grammar Errors - People will notice spelling and grammatical errors, even slight, and immediately question your professionalism. Significant spelling mistakes will make you a cause for amusement, maybe also putting your business on the radar for all the wrong reasons. Make sure you read your mural details thoroughly before you get it printed. Show it to multiple people beforehand–they may find errors you overlooked.
Not Adding your contact info - Many people forget this, and it's a disastrous mistake to make when designing

cool wall murals

. Ideally, the mural should include your company name and logo. Sometimes, you may want to add details like your phone number and website–maybe even a link to a social media page depending on the service you offer and who your target market is. Be sure you add all the relevant details.

Very Crowded Wall Mural - Many people try to pack all the information about their business into a mural –write down the entire history of the company, add many supportive customer testimonials, and top it off with several images. But when it comes murals, less is better. It's possible to create an impact with lesser imagery and the right color combinations.
Too much text and many mural details can confuse viewers. Passersby or people visiting conventions or even your business premises won't have time to digest all those details, and as such, they'll probably retain none. So, it's best to maintain simplicity and let the graphic designers suggest the most impactful designs for your custom wall murals,

based on the size and purpose of the feature

.
Mural Not Aesthetically Pleasing To Your Targeted Demographic - Beauty indeed lies in the eye of the beholder. However, certain elements are generally considered unattractive in

wall mural design. Clashing colors that bother the eye or the overuse of poor clip art should also be avoided. It's best to get perspectives and feedback from various people in this aspect before printing.
Hire Skilled Wall Mural Experts
The team at Mammoth Creative is skilled and experienced. We have the creativity to provide design guidance when you order wall murals for your business. Our experts will work with you, get a good idea about what your requirement is and recommend the ideal wall mural design ideas based on your corporate image and the effect you want to create.
If you want to know more about our wall murals and fleet graphics, get in touch with SBW Graphics today. You can call 720 263 7609 or use our online form for a free estimate.